Email Updates List
We promise to not send you nonstop emails.   We use this list to update you on current promotions, new titles, new products, and new editions.  It is easy to unsubscribe.  We promise to not sell or misuse your information!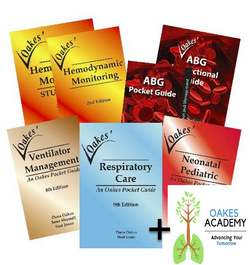 Bundle and Save
All 7 of our best-selling pocket and instructional guides.  Through 8/31 ALL Bundles include a FREE tidal volume measuring tape (No Code Needed) to kick your discount up to max. 
Add Test Prep to Any Order and Save $10
ACCS or TMC (NPS coming soon) - all online at OakesAcademy.com.  Includes everything you need: content review, tons of explained practice questions, and dozens of great tricks and tips.  We're piling on the savings when you order anything.  Use code ONTHETEST.